The Town of Waterbury is working in partnership with Revitalizing Waterbury and VTrans to provide this dedicated website for information on transportation construction plans and timelines for Main Street Reconstruction project in downtown Waterbury and the Route 100 Rehabilitation project between Waterbury and Stowe. We are here to help during this transition of making our roadways and community a better, safer, more inviting place to live, work and play.
---
Route 100 Rehabilitation
Quick Facts
Start:
April 2018
End:
Fall 2019
Work being done:
The Vermont Agency of Transportation (VTrans) is rehabilitating Route 100 in the towns of Waterbury and Stowe to provide a sustainable roadway structure, improved travel surface and to reduce the yearly maintenance costs of this important arterial roadway and major tourist route. Existing shoulders will be increased to a consistent five foot width, where feasible, to accommodate bicyclists. A number of existing drainage culverts will be repaired or replaced and subsurface drainage will be installed in strategic locations. A new traffic signal will be installed at Guptil Road and Route 100.
Project area:
The project area begins just north of the Waterbury roundabout and continues for approximately 9.5 miles to the Stowe Public Safety Building.
Hours of operation:
Approximately 7pm to 6am (night operation) Sunday night through Friday morning with some possible Friday nights
Main Street Reconstruction
Quick Facts
Start:
April 2019
End:
Fall 2021
Work being done:
The Main Street project involves "full depth reconstruction" of Main Street, including replacement of all municipal water and sewer infrastructure, and undergrounding of all aerial utilities from Stowe Street to the State Office Complex. The project also includes new sidewalks, period streetlights, landscaping, streetscape and wayfinding amenities to enhance the appearance of Waterbury village. Construction will be sequenced to maintain traffic flow and reduce disruption to residents and businesses in Waterbury village.
Project area:
The project begins inside the railroad trestle by roundabout and continues for approximately 1 mile to Demeritt Place, and includes the lower portion of Stowe Street from Main Street to the dry bridge over the railroad.
Hours of operation:
Approximately 7am to 7pm, Monday through Friday. Two lane traffic with some 1 lane alternating traffic. Saturday construction may occur outside of the core of the downtown area.
Just a quick note to thank all of you who had taken the survey on how the Main Street communication and construction activities took place in 2019. There were 152 responses with some very good suggestions for getting the information out in 2020. We are going to keep the survey open until Friday, January 21 to allow for anyone else who would like to comment. A full report will come out in early February with some strategies for improvements and changes for the 2020 construction season. If you haven't already done so, please take about 3 minutes to take the survey
Greetings and happy 2020 - it's going to be an exciting year of downtown transformation! As Main Street Reconstruction continues, Revitalizing Waterbury is launching Beautify Waterbury, a facade improvement program for properties within the active construction zone. Interested parties will be able to apply for financial assistance to complete eligible facade improvement projects. In order to stretch these grant funds as far as possible, the Beautify Waterbury committee is conducting a short survey to help us plan: https://forms.gle/LM5qjN3vyg9d2GEe9. Responses are due by Monday, February 3.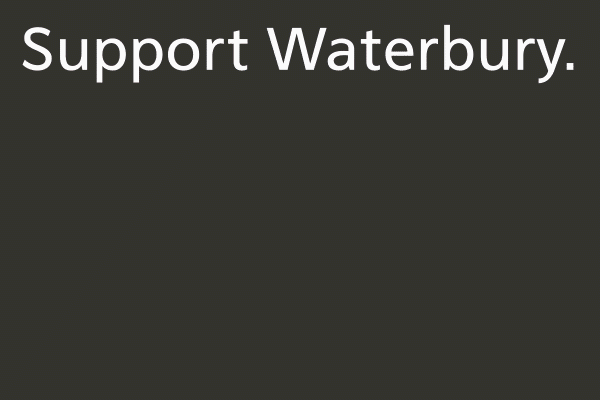 Contact Us
General Project Assistance
Barbara Farr
Transportation Liaison, Town of Waterbury
Business Assistance
Alyssa Johnson
Economic Development Director, Revitalizing Waterbury
Visitor Assistance
Karen Nevin
Executive Director, Revitalizing Waterbury